I make a commission from purchases made through links in my posts, at no extra cost to you. Read my disclosure for more information.
Struggling to find the perfect gift for the special kid in your life? Here are the ultimate top gift ideas for kids and teens of any age! I got you covered for all those special occasions to make gift-giving a little easier for you! There is something for everyone, even the hard to buy for! Find that perfect gift for the special child in your life.
Loot Boxes for Kids and Teens
Crate Joy is an awesome answer to the question of what to get for the kid or the teen that is hard to buy for! Crate Joy is a loot box subscription site with many options to choose from! Loot boxes are the gift that keeps on giving with flexible subscription plans. Loot boxes bring mystery and intrigue to any gift that is also practical and fun. 

Get these gifts on Crate Joy!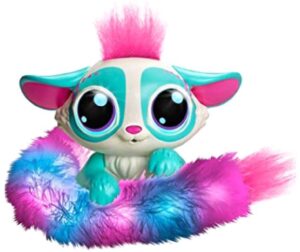 Lil' Gleemerz Doll
You're going to want to stock up on this hot toy! Lil' Gleemerz is an interactive toy that lights up fun and friendship with their rainbow light-up tails, glowing eyes, and quirky sounds and phrases. It responds to touch and sound with over 100 reactions to discover. 

You can see the video on Amazon. Get this gift on Amazon!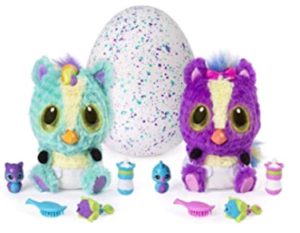 Hatchimals Hatchibabies

With Hatchimals, your kid can hatch a baby creature. If you're cool with associating blue with the male gender and pink and purple colors with the female gender in your house. You can add to the fun by throwing a mini gender-reveal party while the egg hatches since that's the theme!

Get this gift on Amazon!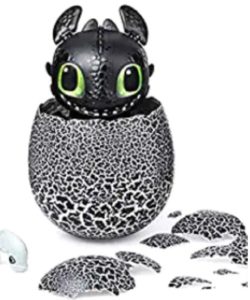 Dreamworks Hatching Toothless Interactive Baby Dragon
The shell-wrapped dragon is the perfect toy for your kid, with the surprise hatching dragon. Once baby Toothless' shell is agitated, it will break away revealing the glowing eyes and charming smile of the little dragon. Once Toothless has hatched, his interactive features allow him to respond to your child's questions, play games, and even let out a sweet little roar in reply to your kiddo's roar. It's like having a pet that you don't have to clean up after which is every parent's dream!

Get this gift on Amazon!
Fisher-Price Think and Learn Smart Cycle

This bike by Fisher-Price makes exercise fun! Give your child the joy of riding a bike without worry about trying to find a safe location for them to ride a bike. Kids can use their tablets or TV on the bike to race through different levels of entertaining games. My son loved his Fisher-Price Smart Cycle when he was younger and your kids will too!

Get this gift on Amazon!
Crayola Color Chemistry Set for Kids
Kids and parents are all about the STEM toys that utilize their love for play and science, technology, engineering, or math. The Crayola Color Chemistry Set turns your toy loving kid into an experimental scientist! The kit comes with 16 Crayola lab scientist-created, out-of-the-box experiments and 34 additional experiments they can try out. Your kids can dive into as soon as they rip the wrapping paper off.

Get this gift on Amazon!
L.O.L. Surprise Bigger Surprise!
This glittery case is packed with more than 60 surprises! There are LOL dolls, little sisters, and pets to discover and collect. Discover 60+ never before seen surprises inside with exclusive dolls and accessories. 2 limited edition L.O.L. Surprise dolls, each with 7 surprises, 1 limited edition L.O.L. Surprise pets with 7 surprises, 1 limited edition L.O.L. Surprise Lil Sister with 5 surprises, 12 plastic hairstyles, 6 brushable hairstyles, 6 face masks, 10 additional accessories, spyglass, sticker L.O.L. Bigger surprise turns into a purse carrying case where you can hold lol collectible dolls.

Get this gift on Amazon!
Luvabella Newborn Interactive Baby Doll
She coos, she opens her eyes, and if you aren't paying attention, you could mistake her for a real newborn baby. With interactive accessories like a baby bottle and pacifier, Luvabella suckles with realistic movements. She can express if she's hungry, fussy, happy or gassy, just like a real baby! Luvabella Newborn Interactive Baby Doll is looking for a mommy to take care of her!

Get this gift on Amazon!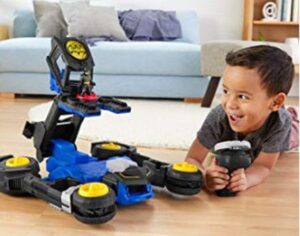 Fisher-Price DC Super Friends Transforming Batmobile
Your little superhero will flip when they see this remote-controlled, transforming Batmobile. With a few pushes of a kid-friendly remote control, Batmobile transforms into battle mode! Use remote to send Batman zooming in the vehicle forward, back, right, left, or spinning. The Batmobile transforms with lights & sounds then returns to vehicle mode.

Get this gift on Amazon!
Lego Ship in a Bottle
This expert Lego building set comes with more than 900 pieces to assemble. The finished product is a pirate ship in a clear bottle! Once the set is built, it can be displayed on the included stand. This is the perfect model for older kids and adults who love miniature model ships. This model boat features a buildable cork and wax seal element, ship with a captain's quarters, cannons, mast, crow's nest, sails and flag, and a display stand with a nameplate.

Get this gift on Amazon!

Magna-Tiles 32-Piece Clear Colors Set
The original 3D magnetic building sets that engage young minds by fusing together math, science, and creativity. Create flat or 3-dimensional shapes with this set. 32 translucent, colorful shapes including squares and triangles. Spark creativity for hours of imaginative free play in children. Anything they can dream, they can create! Helps your child develop important math, science, spatial and tactile skills.

Get this gift on Amazon!
Technic Racecar and Off-Road Truck 2-in-1 Remote Control Car
2-in-1 vehicle building toy your child can make an off-road truck and a racecar with easy-to-use pieces. When you're finished, use the remote control to drive them. This creator technic kits can be played at home, or in the classroom as teamwork. Ultimate STEM toys for boys and girls to drive, turn and spin on smooth, flat surfaces indoors or out. 

Get this gift on Amazon!
Remote Control Robotic Dog
This is a great compromise if your kids want a dog, but you don't want the extra responsibility or allergies get in the way. Touch the head of the dog, it will make cute moves and interact with your child. It can be a great company for kids. You can program the actions as you like, then the dog will repeat what you programmed. Walk forward or backward, look left or right, demo, patrol, blink, and head moves. All of the actions can be controlled by the controller. It would make a great present for a child.

Get this gift on Amazon!

Interactive Cat
This is a great compromise if your kids want a cat, but you don't want the extra responsibility or allergies get in the way. This Ageless Innovation cat has VibraPurr technology which gives the cat an authentic purr that sounds and feels just like real purring. Just like a real cat would!
The cat is able to open and close its eyes, lift its paw, open its mouth, and move its head and body. The companion pet cat also has synthetic, soft, brushable fur inspired by real feline breeds. With the built-in sensors, the companion pet cat responds to motion and touch such as petting and hugging, much like the real cats do but doesn't require any special care or feeding.

Get this gift on Amazon!
Barbie Dream House
This new Barbie Dream House is super fun! Complete with a working elevator, this pink mansion also features a purple slide, seven rooms, three floors totaling 3 feet tall, a garage, and a second-story pool. Lights and sounds add realistic touches and encourage role-play. 70 additional accessories comes with the Barbie Dream House to encourage personal expression and inspire endless storytelling.

Get this gift on Amazon!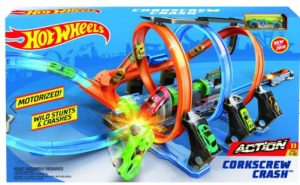 Hot Wheels Corkscrew Crash Track Set
This huge corkscrew track features three loops, three-speed boosters, and three crash zones. Kids get a kick out of launching their Hot Wheels cars and seeing if they can make it through the course without spinning or crashing out. This set comes with one car and connects to other Hot Wheels sets.

Get this gift on Amazon!
Melissa & Doug Star Diner Restaurant
This Melissa & Doug Diner set is the ultimate gift to unwrap. Little boys and girls will get a kick out of knowing they have a diner of their very own. They can play the owner, waiter, customer, milkshake creator, and more! The restaurant side replicates a 50's style diner, featuring a jukebox with spinning dial and coin to drop in the slot. A spinning cake plate on the pass-through shelf adds the cherry on top. This makes an ideal gift for kids ages 3 and up. To round out the hands on, screen free, restaurant play experience, consider adding the 41 pieces Melissa & Doug Star Diner Restaurant playset.

Get this gift on Amazon!
Artie 3000 The Coding Robot
Artie 3000, where education and crazy fun intersect. Artie 3000 is a friendly little robot that allows your kids to program design patterns using intuitive drag-and-drop software. Safe and secure Wi-Fi! No internet connection is required with Artie 3000. With his built-in Wi-Fi, all you need is a tablet, computer, or phone to control Artie. This allows classrooms and homes to run multiple Robots simultaneously. Artie also has pre-coded designs and advanced coding apps for kids to grow with. Artie features easy setup where kids can code using drag and drop, remote control, point and click, Blockly, Snap!, Python, and JavaScript coding. Includes the robot, 4 washable markers, a quick start guide, and activity cards. 

Get this gift on Amazon!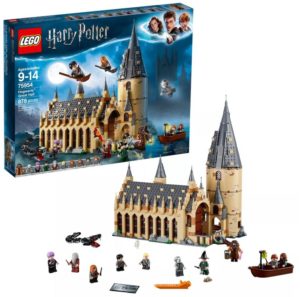 Lego Harry Potter – Hogwarts Great Hall
Does your child wish they were apart of the next graduating class at Hogwarts? If so, this 800-plus-piece Hogwarts Great Hall Lego kit will make their eyes light up. This detailed Hogwarts Great Hall replica has a movable staircase, potion room, and house banners. Don't worry about buying the characters separately as the kit comes with the whole gang! 

Get this gift on Amazon!
The ONE Light Keyboard
Is your child want to learn a new instrument, but you're not sure if you have the time or cash for lessons!? Bring home this quality 61-key keyboard. It functions just like a regular piano keyboard, but it also features the ability to teach your child new music by connecting to an app. LED Lights on the keys will help your child play the piano in minutes. The free apps available with this keyboard include professional piano lesson videos, fun games with learning, a creative crash course, and thousands of sheet music. It's entertaining and will leave your kid with music skills to last a lifetime.

Get this gift on Amazon!
Baby Shark Official Song Doll
You know the song, we know the song, and your kids absolutely know every word of the song, but if your little ones want to hear their favorite tune being sung by the baby shark, this toy is without a doubt a must. All your child has to do is squeeze the tummy to jam out to four verses of the song that kids just can't stop listening to. 

Get this gift on Amazon!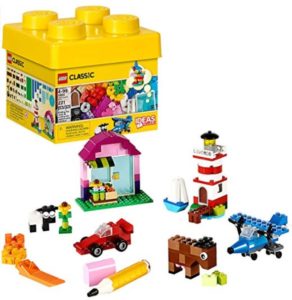 Lego Classic Creative Building Set
Lego's is always popular with my kid! Give the gift of imagination with this Lego set that's loaded with 583 pieces in all different colors. The set includes special pieces like wheels, eyes, windows, and more for the ultimate building experience! The creator can build animals, buildings, vehicles, and other objects with ease.

Get this gift on Amazon!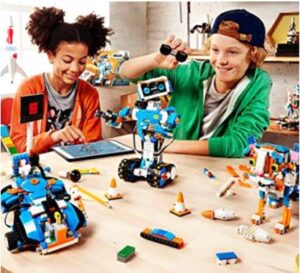 Lego Fun Robot Building Set and Educational Coding Kit for Kids
If your kids love to tinker, build, and create, then Vernie the Robot is the gift for them. With more than 800 Lego parts, your kid can build their robot in five different ways. Standing at 10 inches high, Vernie can roll around, dance, rock out to his guitar, and interact with the other characters like Frankie the Cat and the Autobuilder. Vernie is the perfect gift for your older kids who have grown out of the kiddy phase and desire toys that won't end up abandoned under their beds.

Get this gift on Amazon!
Lego Disney Aladdin and Jasmine's Palace Adventures
Build and play out magical moments from Disney's Aladdin movie with an easy-to-build palace. This Lego set has 193 pieces, including shrunken versions of the main characters like the charming Aladdin, Jasmine and the iconic magic carpet. Inspire screen-free imaginative play with your little ones.

Get this gift on Amazon!
VTech Go! Go! Smart Friends Twinkle the Magical Unicorn
Twinkle is a majestic unicorn that will quickly become your kid's bestie! She has buttons, and colors, and a magical unicorn horn that lights up. She can walk forward and comes to life with a few phrases. Twinkle comes with her petite princess friend and a yummy golden carrot for role play and imaginative fun.

Get this gift on Amazon!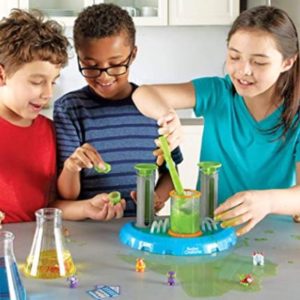 Learning Resources Beaker Creatures Kit
If your child dreams of becoming the next revolutionary scientist when they grow up, then this Learning Resources Beaker Creatures Kit is the toy of their dreams! Your kids can pop their mystery beaker creature into the extraction tank and pump the colorful extraction fluid to create a bubbling reaction to find out which beaker creature is inside. The lab doubles as a working science set, complete with amazing hands-on experiments inspired by the beaker creatures and their world. 21-Piece set includes superlab, 4 reactor pods with mystery beaker creatures, 4 classification cards, 4 mini-posters, an experiment guide, and a full-size poster.

Get this gift on Amazon!
Nintendo Switch
Back in the day, Nintendo and Sega were the top gaming systems all of the kids want to get their little hands on. Fast-forward to today's post-Wii generation and Nintendo has made an epic comeback with the handheld-to-stationary gaming system. This toy brings back the beloved throwback vibe with games like Super Mario Bros and Mario Cart. It is still hot on the market, and we do not see it dropping off any wish lists anytime soon! 

Get this gift on Amazon!
PlayStation 4 1TB Console
If your kids are into video games but they keep running out of drive space on the PlayStation for the games and downloads? Then it is time to upgrade them to the 1 Terabyte PlayStation console so they will have plenty of room to play!

Get this gift on Amazon!
Xbox One X
The Xbox One X 1TB Console with the wireless controller has immersive true 4K gaming. You can watch 4K Blu-ray movies, stream 4K videos on Netflix, Amazon, and YouTube, among others; and listen to music with Spotify. Connect and play with friends and family on Xbox Live.
Xbox Live is a multiplayer network and provides steady gameplay and fast downloads. Compete, connect, and share across platforms with gamers on Xbox One and Windows 10. Get two-four free games each month with Xbox Live Gold. Get exclusive offers like unlimited access to over 100 games to start playing right away with Xbox Game Pass, with new games being added all the time.

Get this gift on Amazon!
Air Wars Battle Drones
Let your kids show their battle skills in the sky. Kids (and adults!) go crazy for this intense action-filled game. It's easy to build up skills too, with three different speed settings and four pre-programmed attack moves. Battle with your remote controlled flying quadcopter drone against an opponent to see who falls out of the sky, first! Customizable weapons to help take down your rival. Durable framing and propellers enclosed for safe play. Includes 2 drones, 2 remotes, 10 weapons, 2-3.7v rechargeable lithium-polymer batteries, charging cables, and 8 replacement propellers.

Get this gift on Amazon!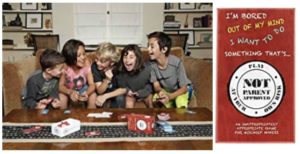 The 'I'm Bored Out of My Mind' Game for Kids
When your kids say the dreaded "I'm bored!â€, now there is a game for that! Inspired by Cards Against Humanity game, but 100% family-friendly. Designed to reintroduce a love of tabletop games for a screen-obsessed generation. Attention-grabbing, easy-to-learn, quick, and simple play. Consider it your secret weapon for a kid who is a reluctant reader. Great for parties, sleepovers, road trips, flights, picnics, and summer camps. Take the laughter with you wherever you go!

Get this gift on Amazon!
The New Fire HD Tablet for Kids
This is the tablet your kids want! It's the latest from Amazon and comes with a super protective case in either blue, pink, or yellow. Keep in mind this is the real deal. It also has easy to use parental controls, a kid-safe browser, and over 20,000 games, books, shows, educational apps, movies and more to choose from. The best part is their return policy. If within the first two years it breaks, just send it back, and they'll replace it.

Get this gift on Amazon!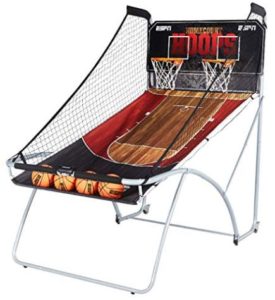 The ESPN EZ Fold Indoor Basketball Game
Perfect for all the basketball fans in the house (including, probably, you!). This indoor foldable basketball arcade game by ESPN even has an LED light-up scoring and 4 basketballs. You can play 8 different games with this one, either head-to-head or by yourself. 

Get this gift on Amazon!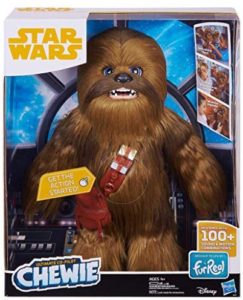 Star Wars Fur Real Co-Pilot Interactive Chewie
Ok I know I am being a total nerd for this new interactive Chewie. I am a big Star Wars fan! If your kids are (or you!) are a fan, then this toy will be a hit! Chewie has over 100 sounds and motions! Plus he totally interacts with you by raising his arms and giving out a giant roar, reacts to you when you're on the go, and even responds when you talk to him.

Get this gift on Amazon!
The Strider Ultimate Balance Bike
This is the coolest way for your small kiddos to learn how to get uses to being on a bike. This is a great first step for them before they can ride a bike. It comes in a range of other cool colors too like pink, royal blue, green, and red! The seat and handlebar heights adjust to accommodate ages 18 months to 3 years.

Get this gift on Amazon!
Crayola Color Wonder Light-Up Stamper
Art time is fun for them, but can also be a huge mess for you. With Crayola's genius mat, the stamps only show up on the specially formulated paper, not your walls. Won't mark on skin, clothing, or furniture. This kit includes color wonder stamper, 3 mini scented markers, 10 themed stamps, and 12 blank pages color wonder paper.

Get this gift on Amazon!
Marvel Fluxx Card Game
If you've never played Fluxx, it's a totally addictive card game where the rules keep changing depending on what cards you play. Great gift for comic book lovers or Marvel fans, with an award-winning game that has all your favorite Marvel characters plus a collectible coin! 

Get this gift on Amazon!
Make a custom gift, with one of these posts!
I will show you how to make a shadow box memorial layout for your cat. This is a quick and easy craft you can do in and hour or two in the afternoon or on the weekend! This a beautiful way to remember your cherished pet with this shadow box memorial idea for your cat. …

How To Make A Shadow Box Memorial Layout For Your Cat Read More »

I will show you how to make a salt dough pet paw print of your cat or dog. These beautiful smelling salt dough Christmas ornaments are easy to make as gifts of your furry best friend. With this easy salt dough recipe, you can make a wonderful DIY keepsake ornaments that the family will cherish for years…

These beautiful smelling salt dough Christmas ornaments are easy for kids to make as gifts. With this easy salt dough recipe, and several fun crafts ideas that kids can make…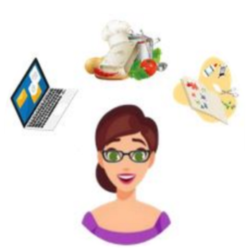 Subscribe to Nerdy Moms United!
Get updates on the latest posts and more straight to your inbox!
I hope this post will make it easier for you to select that perfect gift for that special child in your life.
I make a commission from purchases made through links in my posts, at no extra cost to you. Read my disclosure for more information.