I make a commission from purchases made through links in my posts, at no extra cost to you. Read my disclosure for more information.
Do you want to learn how to start a blog in 8 easy steps? Here is an easy to follow illustrated guide and videoon how to start your first blog for beginners. First you will need to choose your blog niche.
Next, you will need to pick where you want to host your blog to get started. Half of the reason most blogs fail is that they don't start or they don't take their content seriously enough. That means they treated like a hobby instead of a business opportunity.
However, you also don't want people to be visiting a complete skeleton of a blog with nothing on it for them to read. From personal experience, I would say a good number of blog posts to write before promoting your blog is five posts.
This is enough to give your visitors something to read on your blog when you start promoting it on your social media platform of choice. This will also save you from having to type away frantically for months before you launch.
How to Start a Blog for Beginners in 8 Easy Steps
Choose Where You Want To Host Your Blog
Buying Your Bluehost Website Hosting Plan and A Domain Name
Write Your First Blog Posts
Create Social Media Accounts To Help Promote Your Blog Posts
Decide If You Want To Post On Social Media Manually Or With A Tool
Start Applying To Affiliate Programs and Networks
Start Planning Your Next Blog Posts
Choose Your Blog Niche
A niche is a topic. For example: rock climbing shoes, hot sauces, handbags, etc.
Your niche is the topic you write about on your blog or focus your affiliate strategy around. It will be the reason people come to your blog for help or information on that topic. This means, you not only need to be knowledgeable in your chosen niche, but you also need to enjoy writing about it. You don't have to know everything about that topic but you will have to be will to learn more about it.
It needs to be a topic that you can write about, with loads of ideas. I can't emphases that enough if you do a blog. Do you want help in finding your niche? Check out this blog post on "How to choose a niche!
How to start a blog for beginners
Ready to start your blog!? Would a checklist help? Click on the image below to get the free Blog Checklist!




Choose Where You Want To Host Your Blog
How much does it cost to start a blog? Web hosting plans for a blog can range from $3 – $6 a month. Bluehost Website Hosting with WordPress (which is free) is what I use for my blog. I have used several hosting sites but by far I find Bluehost to be the most affordable and easy to use.
I have used Wix and GoDaddy in the past but I would not recommend them for new bloggers at all. I have found them to be very limiting for new bloggers as they grow their website. This is the only part of building your blog on a budget that you will need to spend money on.
I don't want you to pay for over-priced hosting. I have made that mistake and wasted hundreds of dollars. Please don't make the same mistake I did! As a professional Web Developer and Blogger, I personally use Bluehost for my blogs as well.
Why I would recommend using Bluehost because:
They make it easy for you to set up your WordPress blog platform
They have great 24×7 user support
Most affordable hosting on the market
They do not limit your bandwidth of your site (Very important if want your site to be fast for your visitors)
They do not limit the storage space of your site (Also very important since you will have pictures on your site.)


Buying Your Bluehost Website Hosting Plan and A Domain Name

This is important if you ever want to start earning money from your blog. First, you will need to figure out what you want your domain name (the name of your blog) to be. Will it just be your own name, which allows you flexibility when it comes to your brand and niche, or are you going to be creative? You can check to see if your domain name is available below.
While the blog name doesn't have to be exactly what you write about, but it should be related. That way people will know what to expect when they get to your blog. Don't make the blog name too long since you want it to be easy to type into a search bar.

A good blog name has 4 words or less in it. I wouldn't recommend 5 words, it would be too long. Make it catchy and something people will remember easily. You can even use your own name for the blog's name too and your name doesn't have to relate to your niche. However, it would be cool if it did. You can use this tool below to see if the blog name you have selected is available.



Great now you have chosen your blog name and you know that it is available. Now you are ready to set up your blog with a Bluehost account. This is the process I follow when I create my blogs.

You can get Bluehost for $3.95 a month. I can't even get a cup of coffee that cheap unless I make it at home. I do love my coffee!


Follow the action below with me to get you blog setup!
Action 1: Go to Bluehost to get your website hosting account by going to this link.
The link will take you to the Bluehost homepage. Click on the "Get Started" button.
Action 2: Choose a hosting plan
Since you are just starting out, I would recommend the Basic plan since we will be using WordPress to build your website. The basic plan is a good choice since you and don't have a flood of traffic to your website yet. As your blog grows you can upgrade your plan later. I use the Plus Plan.
Action 3: Lock in your awesome blog name so your domain will be completely yours.
In the "Create a new domain" screen enter your blog's name. It must be altogether without spaces. For example, Nerdy Moms United will look like nerdymomsunited, then click on the "Next" button.
Action 4: Fill in your personal account details
Fill in the required information to set up your account. Adding your business name is optional and you can always update that field later in your account.
Action 5: Check your "Package Information" before completing your registration
Scroll down and check your package information. Make sure to review the add-ons that are included by default. Remember to check only those that you need.


Here's what you should know about each add-on:
 Domain Privacy Protection: This service costs $0.99 more per month (billed annually at $11.88/year). It helps you keep your personal information (e.g. your name and address) private. Only get this if you need to keep your website and domain information anonymous. I do use this optional ad-on for my sites.

SiteLock Security: This service costs $1.99 per month (billed annually at $23.88/year). This add-on verifies your email address, physical address, and phone number. This feature might help prove your credibility to customers if you plan to sell a product or service on your site. For example like an online store. I use this service but it is up to you.

CodeGuard Basic: This service costs $2.99 per month (billed to the end of hosting term). This provides extra security to your website by letting you backup your site regularly. This makes it easy to revert your site to a previous save if anything happens or if you make a mistake. There are free plugins you can use instead. I like to use the Updraft backup plugin since it is free and easy to use.

Bluehost SEO Tools Start: This feature costs an extra $1.99 per month (billed annually at $23.88/year). Bluehost claims that this tool can help you get search engine rankings. Instead, I use RankMath which is a free Search Engine Optimization (SEO) plugin and it helps you evaluate and manage the SEO on your site.
1 Office 365 Mailbox: This add-on comes free for the first 30 days. It's a safe and reliable email platform powered by Microsoft. I don't use this since Microsoft will want to charge you a monthly subscription fee. When you are just starting out you don't need a service drain your business of money before it even gets started. Plus you are not ready for email marketing yet. That will come into play later down the road but it is not covered in this guide.
Action 6: Pay for your hosting
Once you are done selecting or not selecting your add-ons then you pay for your hosting.

Give the fine print a good read before making a final decision. I want you to be aware that the amount indicated in each plan is billed annually. You might be surprised to find that Bluehost has deducted a lump sum instead of the indicated monthly price. I should mention that Bluehost has a 30-day money-back guarantee, so you can always opt-out during that time.


NOTE: The money-back guarantee doesn't extend to the domain. If you get a domain from Bluehost and then cancel within the first 30 days, they will deduct the necessary amount for the yearly domain fee. So, keep this in mind in case you ever need to get your money back.
Action 7: Setting up your account and WordPress website backend
Choose a password and click on the "Create Account" button.
NOTE: Remember to save your password for your account. Write down your account information and keep it safe. You will need this information every time you log into WordPress to work on your blog.
Congratulations your Bluehost account is ready! Now you can log in to your account.
Type your blog name into the "What do you want to name your site" field with the spaces.
Choose your Tagline Statement for your website and type it into the "What's your site's tagline" field. If you don't have one right now that is ok.
Click on the toggle switch to the right for "Do you want a blog" and click on the "Continue" button.
Select the statements that best represent you and your goals and continue on. I will help you with creating your website for
your blog. Don't worry you are almost done with this part!
When you see the "Pick a Theme†screen, you are going to want to select Astra Theme. It is very flexable and easy to use. I use the Astra Theme on all my blogs and it is free.
You are doing great! Bluehost is setting up your WordPress website.
On this screen click on the "Log in to WordPress" button. This would be the account you set up earlier.
Write Your First Blog Posts
It is a good idea to start with 5 posts at a minimum, before going live. The part that took the longest was writing my first blog posts. It is very important to have a well written post with good grammar. I use Grammarly to help me proofread my blog posts before I post them. Grammarly is a blogger's best friend when it comes to helping you in proofreading your posts.

I recommend using Grammarly for your proofreading because it is free! It also spares my family members the pain and me from being dependant on them for my proofreading. By the way, the point of my blog is to help others by share information. To help you solve your pain points and to not torture my family with my posts. Do yourself a favor and get Grammarly for free, I don't regret it!

Want to get Grammarly to help you with your blog writing? You can Grammarly here!


Create Social Media Accounts To Help Promote Your Blog Posts
Start with one or two social media platforms, you can always grow from there. Connect your blog to your social media accounts. These social media accounts will help you get traffic to your blog. If you already have a large following on social media, for example, Facebook, Instagram, Twitter, Pinterest, etc. Then you can leverage that to get traffic to your site.
Below are the links to a few social media platforms to leverage them for affiliate marketing.

Resources:
Facebook Groups (free): You can get it here!
Instagram (free): You can get it here!
Twitter: You can get it here!
Pinterest Business (free): You can get your Pinterest Business account here!
YouTube Channel: You can get your YouTube account here!




For example, if you are going to use Pinterest for affiliate marketing, you will have to follow this FTC rule.
Pinterest Affiliate Link Disclosures
The most important rule you need to remember when adding affiliate links is to mention that it is an affiliate link. In your pin descriptions, Pinterest urges you to always disclose that it is an affiliate link and affiliate networks require it. You can write this within your description or use #affiliate, #Ad, or #afflink at the end of your description. This needs to be done to follow affiliate network rules and abide by FTC regulations. Failure to do so can get you banned from Pinterest.
You will have to check with the other social media platform's policies on their affiliate marketing rules. I want to learn more about the FTC rules on affiliate links. Check out this post on 7 Making Money Online Tips!


Decide If You Want To Post On Social Media Manually Or With A Tool
You can promote your blog posts onto your social media accounts to bring in traffic. A tool will help you streamline your social media presence and makes it easier to manage. I personally like and uses Tailwind as my pin scheduler for Pinterest and I use it to promote my blog posts on social media.
Tailwind is an online marketing software created to help you promote and get free traffic from Pinterest, Facebook, Twitter, and Instagram. Tailwind is great for promoting your blog, online business, and online shop. Tailwind does this by helping you simplify the processes involved in social media marketing and who doesn't want more help in marketing!
With Tailwind you can get powerful features, such as content discovery, post scheduling, and conversation tracking. These features will help you measure and track your results in real-time so you can fine-tune your marketing strategies as quickly as possible. No other tool can do what Tailwind can do for you!

Get Tailwind's free trial today!




Want to learn about "Tools for affiliate marketing?" post and see the "Social media platforms and tools section"!


Start Applying To Affiliate Programs and Networks
You will need to sign up for affiliate programs so you can promote products and services. Once you are accepted to an affiliate program, select a product, and start promoting through your blog post, social media, etc. Viglink (now called Sovrn) is a great way to easily promote offers on your site through links. Go to the Sovrn site to find out more.


Want to learn more about "Which affiliate program should you choose?" Check out this blog post!


Start Planning Your Next Blog Posts
When it comes to how often you should be writing, the most important thing is to write consistently. If you can only commit to writing one blog post a week, then only write once a week. Consistency is more important than writing every day especially if writing every day causes you to burn out and stop altogether.
Another tip, when it comes to writing blog posts easily, is to plan ahead. I keep a list of topics to write about, so I already know what I am going to start writing on before I have even turned the computer on. I never sit down and just stare at the screen not knowing what to write. I always have a purpose. Be patient and keep posting, it will take time.


Still, feeling a little lost in when it comes to blogging!? Don't feel bad, I had the same struggles when I create my first blog too. I have some free templates and checklists that can help you with getting past everyday blogging hurdles. Do you want to learn more? Click here to get your free templates and checklists.
I make a commission from purchases made through links in my posts, at no extra cost to you. Read my disclosure for more information.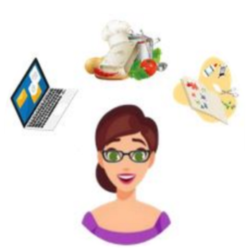 Subscribe to Nerdy Moms United!
Get updates on the latest posts and more straight to your inbox!
Looking for more posts about blogging?
When I first started blogging, I didn't know you could uses Pinterest to promote your blog's content to get free traffic. That's right, traffic for free! Who doesn't want to get free traffic coming to their blog!? …