I make a commission from purchases made through links in my posts, at no extra cost to you. Read my disclosure for more information.
What are the best tools for bloggers to use for affiliate marketing? I hear this question a lot from people interested in getting into blogging. Some of these tools are free and paid services but it is important for you to know how these tools work for you.
Website and Blog Hosting Tools
Grammarly For Proofreading
Landing Page Tools For Affiliate Marketing
Social Media Platforms and Scheduling Tools
Free Graphics And Image Editing Tools

You can use these tools to help promote your affiliate offer to your audience. I will tell you about each tool, where you can get it, and what type of tool it is. This list might not be all the tools that are out there, but these are the tools I have researched.
Currently, these tools have the highest user satisfaction reviews from multiple sources. Many successful affiliate marketers recommend them, and there are YouTube videos on how to use these tools. I have found these tools to be useful and help save time or money. The tools list below either have training on their websites (free and paid training) and/or training on YouTube.
Website and Blog Hosting Tools
WordPress.org (free with loads of features):
WordPress.org is where you'll find the free WordPress software that you can download and install on your own website host provider, like Bluehost. Using the downloaded version of WordPress from WordPress.org opens up more control and flexibility for your WordPress site, but it also means more responsibility.
Using a self-hosted version of WordPress means you can use your own domain name, upload and install themes and plugins, edit the code behind your site and have access to your site's database (or files). Most of the showcase sites you see on WordPress are the self-hosted version of WordPress since many of them have unique functionality or a custom-made design.

Get WordPress.org here!
WordPress.com (Free version is limited):
WordPress.com takes care of all of the hosting for you. You don't have to download software, pay for hosting, or manage a web server. A few of the cons of using WordPress.com is that your domain will, by default, include WordPress.com. To get a custom domain name, you will have to pay for a plan.
You also can't upload any custom themes, plugins or modify the PHP code behind your site. That is a problem if you want to do affiliate marketing on your blog because you will need access to that to add custom tags to your site. Plus adding tags to a Bluehost or Wix site is easy as copying and pasting so you don't need to worry about knowing how to code.

Get WordPress.com here!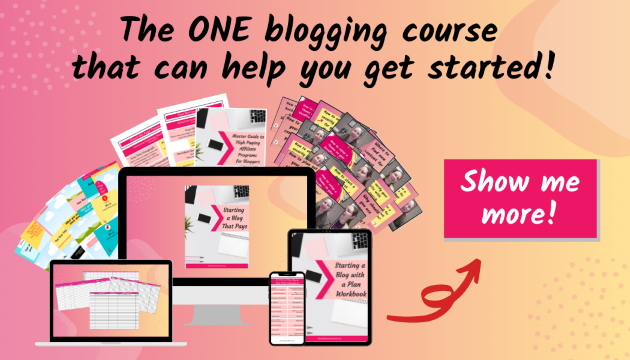 I prefer the last hosting sites because it is user-friendly, great for beginners, and easy to use. You can also leverage Worpress.org on Bluehost. It also has security and search engine optimization known as SEO. SEO is really important when you what people to be able to find your blog through Google. Plus there are many YouTube videos on how to use Bluehost so you can find the help you need if you ever get stuck!

Bluehost:
Bluehost is used for hosting sites and for purchasing domain names. To have a website you need two things web hosting and a domain name. They make setting up a site quick and easy. Their customer service is excellent. You can reach them via email, chat, or via the phone. They have a 30-day money-back guarantee no questions asked and you can start your site at $3.95 month. WordPress also recommends Bluehost when building a blog. I use Bluehost for all of my blogs.

Get Bluehost here!
I have also used WIX and GoDaddy in the past but they didn't have the flexibility that I was looking for as a blogger. There are other hosting platforms out there. However, these are the ones I have the most experience with and used myself.
Grammarly For Proofreading
I use Grammarly to help me proofread my blog posts before I post them. Grammarly is a blogger's best friend when it comes to helping you in proofreading your posts. That way you are not torturing your friends and family members to proofreader your post. The best part of Grammarly you can use their app and browser extension in Google Chrome for free. Want to get Grammarly to help you with your blog writing?

Get Grammarly here!
Landing Page Tools For Affiliate Marketing
Landing page software enables online marketers to create and optimize landing pages quickly and easily. A landing page is also called a "destination page", "lander", or "lead capture page". It is a web page that shows up when you click on an online ad or an SEO-optimized search result. This landing page displays sales content that is an extension of the link, search result, or ad.
Landing pages are utilized for lead generation. Visitors' actions on a landing page determine the marketer's conversion rate. Marketers and advertisers can boost the effectiveness of their online ads by linking their landing pages to search engine marketing campaigns, email campaigns, and social media.
ClickFunnels (free trial):
Clickfunnels is an online sales funnel builder that helps affiliate marketers. It creates offers, sells, and deliver their products online. This tool simplifies the process by providing users with funnel options that are pre-built for a specific offer, product, or service.
Clickfunnels makes it easy to create a marketing and sales funnel from the ground up. It builds all the core functions needed to have an effective sales funnel. Traditional online funneling means you need to deal with website hosting, landing pages, email autoresponders, and more. It's hard work and traditional sales funnels are time intensive and very expensive.
ClickFunnels solves this problem by having all of these services working together in unison. Clickfunnels have all these features and more. You will get it all in one package which helps simplify the process. They have funnels for webinars, sales, membership sites, and subscriber lists. Each funnel are quite different from the other.
They also offer training, useful features, and a ClickFunnels Facebook community. There are not many affiliate marketing tools that provided that. ClickFunnels knows that when you succeed in using their service and you see the money coming in, they succeed, it is a win-win situation.
Plus, you can promote this product as part of your affiliate marketing strategy. I personally find it to be a big part of my affiliate marketing strategy. It is the best option in my opinion if you don't want to do a blog!
Get your free trial of ClickFunnels here!

When you sign up for your ClickFunnels trial, they offer free training to you.
Free 30 Days Summit training – Free Affiliate Bootcamp Summit
Do you want to join the ClickFunnels affiliate program? Click here to find out more!
Leadpages (Free Trial):
Leadpages is a well-reputed and relatively young software service. They let you build landing pages that can boost your conversion rate too. Leadpages has great features and customization options that giving you control over your landing page design.
You can create mobile pages or large screen interfaces. You can design the way you like through simple drag and drop operations. Add widgets, texts, images, etc. to make your content more appealing.
best affiliate marketing tools
Get your free trial of Leadpages here!
Autofunnels:
Autofunnel from GetResponse is a tool that lets you manage and develop online sales. It will help you promote your products online, gain new customers, and increase your sales. It's an easy to use tool that will save you time and improve your conversion rates.
Autofunnels is probably best suited towards 'solopreneurs'. This is an all-in-one option for creating all the assets you need to create a sales funnel, right up to converting subscribers into customers. Autofunnel that help you choose the best steps to include in your funnel.
You can select pre-designed templates and funnel scenarios that will help you remove the guesswork and focus on your marketing strategy. AutoFunnel takes every function available in GetResponse, consolidating them together into the best marketing tool available for any kind of online business.

Get more information about Autofunnel here!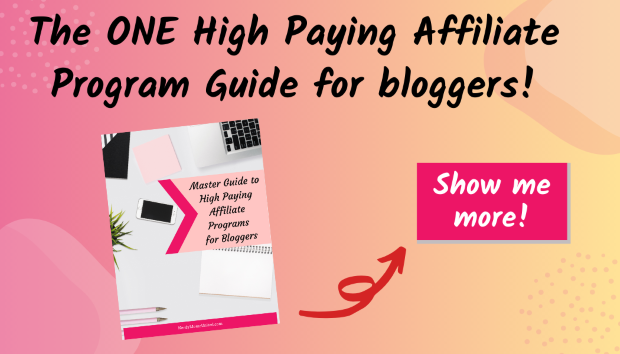 Social Media Platforms and Scheduling Tools
Social media is an excellent resource for your affiliate marketing strategy and most of it is free! These are the top five social media platforms for affiliate marketing.
Tailwind (free trial):
Tailwind is an automation scheduling tool that helps you post and pin to your social media accounts. Not only does it automate your posts and pins, but it helps you track your posts and see how popular it is on these social media platforms. Then you can use that information to see what promotions are working for you. You can use it with Pinterest, Facebook, Twitter, and Instagram.
Tailwind provided you easy to follow free training on YouTube, a Tailwind community, and product support. You can go wrong with this social media scheduling tool. With Tailwind you can automatically optimize your Facebook, Instagram, Twitter, and Pinterest post.
You can schedule your pins and post to engage your audience at the right time. Then, measure effectiveness with detailed analytics and insights. Plus you can promote this product as part of your affiliate marketing strategy.

Get your free Tailwind trial here!
Milotree (free trial):
Milotree is a smart pop-up that helps you use your blog traffic to increase your followers on social media as well as your email list. It is a passive form of automated list growth. It pops up on your website inviting visitors to sign up for your freebie or follow you on social media. Milotree will allow you to grow your social media following with very little effort.
You can get your Pinterest pop-up, Instagram pop-up, YouTube pop-up, Facebook pop-us, and email pop-up in one subscription. Take advantage of the traffic you've already built, and automatically convert your site visitors into followers and subscribers. Pre-designed, beautiful pop-ups that display your content.
Get your free Milotree trial here!
Free Graphics And Image Editing Tools
No matter if you are a blog or not, you will still need graphics for your social media posts. If you are a photographer and your blog is about photography then you have that part covered. For the rest of us, including myself, I will need graphics for my blog and posts.
The number one rule about graphics is to not steal copyrighted images from others. You can either pay for a subscription for graphics or you can use a free service. To help you through this process here is a list of all the royalty-free graphics sites that I use. Plus a free graphics editing tool that I use to create my post and blog images.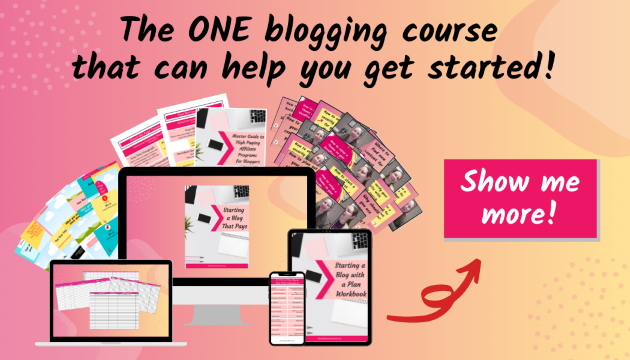 Canva:
Canva is a free tool you can use to create graphics for your blog and social media posts. They also have a selection of royalty-free pictures you can use.

Get Canva for free here!
Royalty-free graphics sites:
Email Marketing Tools
Whether you are doing a blog or not, an email will be important to your affiliate marketing strategy. This is a great option if your hosting platform does provide an email management tool. If you have a huge list of subscribers (or multiple lists), your email marketing costs will make up for a sizable chunk of your budget.
GetResponse (free trial):
GetResponse email marketing solution is stacked with powerful features and tools. It gives your email marketing campaigns a huge boost in effectiveness and drives the results you want. It's an easy-to-use email creator that lets you create beautiful emails that are optimized on any device.
GetResponse enabling your campaigns to reach people who constantly on their smartphones and tablets more than their desktops. Smart automation helps in converting leads to buying customers. For those who are new to the email marketing business. The platform also provides webinars for added information, better strategies, and effective implementation of campaigns.

Get your free GetResponse trial here!
ConvertKit (free beginner's plan):
ConvertKit is a cloud-based email marketing automation and lead generation solution. It is designed for the needs of professional course creators, YouTubers, podcasters, and bloggers. This great for these small business owners who want to create and share online content.
The platform helps you to increase your email subscriber list and automate email marketing. with a drag-n-drop email sequences, workflow automation rules, landing page templates, custom opt-in forms, and much more. With ConvertKit, you can create responsive opt-in forms and embed them on your website.
The forms automatically adjust to the place where they are added. For example, the sidebar, ends of posts, etc. You can create an unlimited amount of forms with each offering an incentive to sign up.
Plus, you can set specific opt-in forms for particular posts and add a specific call to action for each post. The platform offers three landing page templates. You can easily customize the text, textures, patterns, and colors without coding skills. For other changes, you can add custom CSS coding.
The free beginner's plan allows creators to make unlimited landing pages and forms. They can choose from multiple templates, add personalization and design, include an incentive email, create a thank you page, manage subscribers, and send broadcast emails.
best affiliate marketing tools
Get your free beginner's plan with ConvertKit here!
AWeber:
AWeber is a very popular email marketing tool even for advanced affiliates. It comes with superior autoresponders that make customer engagement and interaction easier than before. AWeber works well with PayPal, LeadPages, and WordPress, to name a few.
Customer support is also a huge highlight for AWeber. The company deploys a team of email marketing professionals who are highly knowledgeable, responsive, and effective. For those who are new to email marketing. AWeber offers regular live webinars for added instruction and training. Access to data and reports also gives you the insight you need to make better decisions, devise and implement better strategies, and achieve success.
best affiliate marketing tools
Get your AWeber free trial here!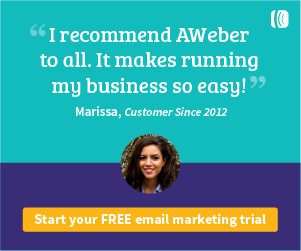 Still, feeling a little lost in when it comes to blogging!? Don't feel bad, I had the same struggles when I create my first blog too. I have some free templates and checklists that can help you with getting past everyday blogging hurdles. Do you want to learn more? Click here to get your free templates and checklists.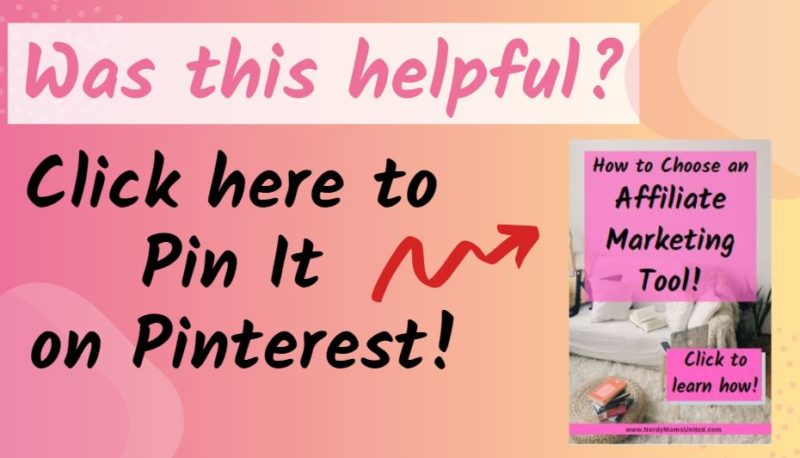 This post may contain affiliate links. Please read my disclosure for more information.
I make a commission from purchases made through links in my posts, at no extra cost to you. Read my disclosure for more information.
I am an independent ClickFunnels Affiliate, not an employee. I receive referral payments from ClickFunnels. The opinions expressed here are my own and are not official statements of ClickFunnels or its parent company, Etison LLC.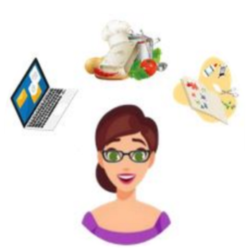 Subscribe to Nerdy Moms United!
Get updates on the latest posts and more straight to your inbox!
Looking for more posts about blogging?
When I first started blogging, I didn't know you could uses Pinterest to promote your blog's content to get free traffic. That's right, traffic for free! Who doesn't want to get free traffic coming to their blog!? …