I make a commission from purchases made through links in my posts, at no extra cost to you. Read my disclosure for more information.
This is the ultimate top gift ideas for nerds and tech lovers in your life! Find a unique gift for the special someone that loves technology and are sci-fi nerds. There is something for everyone and maybe you might find a little gift for yourself too!
Nerd Loot Box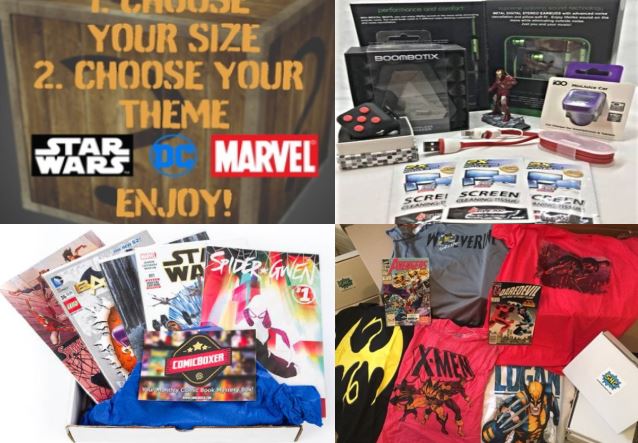 Crate Joy is an awesome answer to the question of what to get for the nerd that has everything! Crate Joy is a loot box subscription site with many options to choose from! Loot boxes are the gift that keeps on giving with flexible subscription plans. Loot boxes bring mystery and intrigue to any gift that is also practical and fun.

Get these gifts on Crate Joy!

Uncommon Goods
If you are looking for a unique nerd gift for your favorite nerd in your life? Then Uncommon Goods is a great website to check out to find that special gift! 

Get these gifts on Uncommon Goods!
MilLink i3 Mk2s Desktop 3D Printer
If your favorite tech lover has been wanting a 3D printer but they have always been too expensive! The wait is over! The MilLink 3D Printer from Prusa is the 3D printer they have been dreaming of. The material it uses to make your creations is now so affordable too. Watch your designs take shape and make spare parts on the fly! This gift idea is to cool to pass up and they will get enjoyment from it for years to come.

Get this gift on Amazon!
Build-On Brick Mug
Ok, who doesn't love Legos!? It's a throwback to the Lego sets you used to play as a kid or maybe you still do! This mug comes with building pieces included so you can start on your masterpiece right away. 12 oz. Mug can be used for coffee, hot chocolate, and other beverages. It comes in 7 different colors.

Get this gift on Amazon!
Frames Audio Sunglasses
Sunglasses frames with built-in speakers that produce rich, immersive sound for you, while others hear practically nothing. He can block out the sun while listening to his music, wire-free through mini speakers. That's a seriously interesting tech gift. Open-ear audio allows you to stay aware of your surroundings while enjoying your music.
Get this gift on Amazon!

Wireless Bluetooth Hat
Upgrade you go-to cable knit beanie to this tunes-playing beanie. Built-in sneakers stream music or calls from your phone via Bluetooth. Features premium double soft knit to provide the maximum comfort, delicacy, and secure-fit mobility for most versatile lifestyle indoor, sports-active outdoor, or everyday usage without compromising the convenience. Bonus: The speaker is removable, making this machine washable and come in 12 different colors.

Get this gift on Amazon!
Noise Masking Sleepbuds
You can use soothing sounds to cover up unwanted noise like snoring partners and noisy neighbors so you can fall asleep and stay asleep. Super tiny sleep buds stay comfortably in place all night long, even if you sleep on your side. This is also great for traveling! 

Get this gift on Amazon!

Fitbit Charge 3 Activity Tracker Watch
Fitbit's best-selling swim-proof tracker offers even more insights about your heart rate, calorie burn, sleep, and more. It's officially the year that you crush your fitness goals, once and for all. Choose from 15 plus exercise modes like run, bike, swim, yoga, circuit training and more, set a goal, and get real-time stats during your workouts. Swim proof and water-resistant to 50 meters so you can track swims and wear in the shower. Not recommended for wearing in a hot tub or sauna. Also, connect to smartphone GPS for real-time pace and distance during outdoor runs and rides. You can stay connected to your day with everyday apps for weather and more and get call, text, and smartphone app notifications on his wrist.

Get this gift on Amazon!
Apple Watch Series 5
The fifth-generation Apple Watch is the first to feature an always-on display, so users no longer need to raise their wrists or tap the screen to tell the time. It's also the first model to be offered with a titanium case. And despite the increased display activity, the 18-hour battery life and water resistance to 50 meters are just as robust as previous versions.

Get this gift on Amazon!
Belkin Boost Up Wireless Charging Dock for iPhone and Apple Watch
This Belkin accessory is an amazing gift for someone who owns a new iPhone and an Apple Watch. They can wirelessly charge the devices rapidly and simultaneously! Of course, the Boost Up charging dock supports Nightstand Mode for the Apple Watch. Available in black or white, the wireless charger has a built-in USB port, allowing the users to charge a third device alongside their iPhone and Apple Watch.

Get this gift on Amazon!
Nintendo Switch
Back in the day, Nintendo and Sega were the top gaming systems all video gamers wanted to get their hands on. Fast-forward to today's post-Wii generation and Nintendo has made an epic comeback with the handheld-to-stationary gaming system. This beloved throwback vibe has games like Super Mario Bros and Mario Cart is still hot on the market, and we do not see it dropping off any wish lists anytime soon!

Get this gift on Amazon! 
PlayStation 4 1TB Console
If your video game lover keeps running out of drive space on their older PlayStation for their games and downloads? Then it is time to upgrade them to the 1 Terabyte PlayStation console so they will have plenty of room to play!

Get this gift on Amazon!

Xbox One X
The Xbox One X 1TB Console comes with a wireless controller that has immersive true 4K gaming. You can watch 4K Blu-ray movies, stream 4K videos on Netflix, Amazon, and YouTube, among others; and listen to music with Spotify. Connect and play with friends and family on Xbox Live. Xbox Live is a multiplayer network and provides steady gameplay and fast downloads. Compete, connect, and share across platforms with gamers on Xbox One and Windows 10. Get two-four free games each month with Xbox Live Gold. Get exclusive offers like unlimited access to over 100 games to start playing right away Xbox Game Pass gives you instant, unlimited access to over 100 highly-rated and fun games, with new games being added all the time.

Get this gift on Amazon!

SteelSeries Arctis 3 Wired Gaming Headset
Arctis 3 wired gaming headphones are the perfect gift for gamers. Play all day with athletics inspired performance fabric Air Weave ear cushions that keep your ears cool and dry. The Artic 3 deliver excellent sound and supreme comfort, and it has an ultra-sensitive microphone that's great for both in-game trash talk and making Skype calls. The headset is compatible with all major gaming platforms, including Xbox, PlayStation, Nintendo Switch, VR, and PC.

Get this gift on Amazon!
Oculus Quest All-in-one Virtual Reality Headset
The Oculus Quest VR headset is a great way to introduce anyone to high-quality virtual reality experiences. Powered by Android, the gadget comes bundled with a pair of intuitive controllers, as well as built-in sensors to track your movements. Oculus Quest works with your environment, so you can play standing or sitting, in spaces big or small. Combined, they make all virtual reality interactions and gaming a total blast. There is a vast library of virtual reality games and experiences users can pick from. I enjoy playing beat sabers. Adding content to the Oculus Quest requires a smartphone connection.

Get this gift on Amazon!
Arcic Air Drone
DJI's latest drone is also the most portable one on the market today. When folded it is small enough to carry in a jacket pocket but powerful enough to offer 21 minutes of flight time capturing 4K videos and 12-megapixel still photos at speeds of up to 43 miles per hour. Set up tracking to shoot a friend, or head skywards for a quick flight using your smartphone instead of controller. Watch the video on Amazon to see what it can do!

Get this gift on Amazon!
ONE 360 Degree Panoramic Video Camera 4K
The ONE shoots in every direction at once, capturing life in a seamless 4K 360° video and 24 MP 360° photos. Once you've got your shot, re-frame the best parts, or share a full 360° experience straight from your smartphone. Best in class stabilization ensures pro-level footage, no matter what you're doing. Create a stunning edit with a few taps. Mark off the best parts of your 360° footage and the ONE connects them with ultra-smooth camera movements. Mount the ONE on a selfie stick and watch as it instantly disappears from view with easy aerial shots without a drone. You can use the ONE on its own, control it with Bluetooth, or connect directly to your iPhone and preview shots in real-time.

You have to check out the videos on Amazon! Get this gift on Amazon!
GoPro Hero Waterproof Action Camera

This tiny camera is made to withstand the elements so tech lovers can shoot any adventure and share it with friends and family. The redesigned shape is more pocketable, and folding fingers at the base let you swap mounts quickly. A new side door makes changing batteries even faster, and the lens is now 2x more impact resistant. Now HERO8 Black has three levels of stabilization, so you can pick the best option for whatever you do. Get the widest views possible, or boost it up to the smoothest video ever offered in a HERO camera. Plus, Hyper Smooth works with all resolutions and frame rates and features in-app horizon leveling. Capture super stabilized time-lapse videos while you move through an activity. Time Warp can now automatically adjusts speed based on motion, scene detection, and lighting. With Live Burst record the moments 1.5 seconds before and after your shot, so you can choose the best single frame for the perfect photo. You have to see Hero 8 inaction on Amazon! 

Get this gift on Amazon!
Aura Digital Photo Frame, 10 inch
Instantly share photos from our App to your digital photo frame. Stay in touch with loved ones with the convenient and user-friendly iOS/Android phone & tablet app, Alexa which allows anyone in your family to share photos via WiFi. No emailing or USB sticks required! Aura stands apart with its family-centric and user-friendly digital frame design that anyone in your family can use. Share unlimited photos to the digital picture frame without subscription fees with unlimited cloud storage, which is a great deal! The digital photo frame automatically displays your photo at the perfect brightness for the room you're in, and sensing the light, will go to sleep when you do.

Watch the video on Amazon to learn more! Get this gift on Amazon!
Apple iPad Air
The latest Apple iPad Air is a great gift for someone in need of a new tablet. Sleek and powerful with a 10.5-inch retina display with true tone color. The iPad Air offers access to more than a million high-quality apps, as well as Apple's excellent library of music and video content. It's simply the best full-size tablet money can buy and is sure to please!

Get this gift on Amazon!
Fire HD 10 Tablet
Amazon's newest tablet boasts 10 hours of battery life and a 10-inch HD display so you can read, watch videos, and search the web with ease. Even better, Alexa capabilities are built-in, all you have to do is voice your command and the smart assistant is on it.

Get this gift on Amazon!
Microsoft Universal Foldable Keyboard
Perfect for the person with a lengthy commute, this compact, foldable keyboard will help maximize those extra moments otherwise spent idle. That can add hours of extra productivity, catching up on returning messages, writing a memo, and back to the day. The rechargeable keyboard is compatible with iPad, iPhone, Android, as well as Windows tablets and phones.

Get this gift on Amazon!
Make a custom gift, with one of these posts!
I will show you how to make a shadow box memorial layout for your cat. This is a quick and easy craft you can do in and hour or two in the afternoon or on the weekend! This a beautiful way to remember your cherished pet with this shadow box memorial idea for your cat. …

How To Make A Shadow Box Memorial Layout For Your Cat Read More »

I will show you how to make a salt dough pet paw print of your cat or dog. These beautiful smelling salt dough Christmas ornaments are easy to make as gifts of your furry best friend. With this easy salt dough recipe, you can make a wonderful DIY keepsake ornaments that the family will cherish for years…

These beautiful smelling salt dough Christmas ornaments are easy for kids to make as gifts. With this easy salt dough recipe, and several fun crafts ideas that kids can make…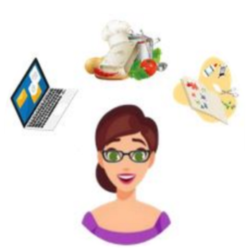 Subscribe to Nerdy Moms United!
Get updates on the latest posts and more straight to your inbox!
I hope this post will make it easier for you to select that perfect gift for that special someone in your life.
I make a commission from purchases made through links in my posts, at no extra cost to you. Read my disclosure for more information.