I make a commission from purchases made through links in my posts, at no extra cost to you. Read my disclosure for more information.
This is the ultimate top gift ideas for the cooking lover in your life! Find a unique gift for the special someone who is just starting out on their cooking experience or a well-seasoned chef. There is something for everyone and maybe you might find a little gift for yourself too!

Cooking Lover's Loot Box

Crate Joy is an awesome answer to the question of what to get for the cook that has everything! Crate Joy is a loot box subscription site with many options to choose from! Loot boxes are the gift that keeps on giving with flexible subscription plans. Loot boxes bring mystery and intrigue to any gift that is also practical and fun. Get these gifts at Crate Joy!

www.cratejoy.com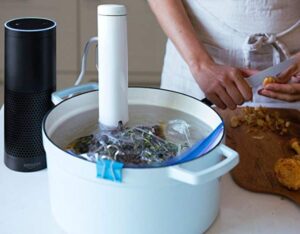 Chef Steps Joule Sous-Vide Cooking
They might not think they need a Sous-Vide machine, but that's exactly what makes it a great gift for an experienced chef, who can use it to make always-tender steaks, never-overcooked fish or seafood, and even soft-scrambled eggs. What is sous-vide cooking? Your favorite chefs place ingredients in food-safe plastic bags and vacuum-seal them. Then cooks the food in water baths with precisely controlled temperatures. The secret to the sous-vide is in the immersion circulator, it's the tech that keeps the water temp so accurate. This cooking technique is big in restaurants because it's incredibly accurate and consistent.
In the last couple of years, companies have started to offer this versatile tool to home cooks as an easy way to do this style of cooking. Another added bonus for you and your favorite cook! It makes clean up much easier because the food is in a bag in a pot of water. That means no food to scarp and scrub off! Who really wants to scrub pots and pans after dinner!? Go to Amazon and see the video for yourself!

Get this gift on Amazon!

Breville Compact Juice Extractor
top gifts for cooks
For the home cook who is really into juicing or just trying to eat a little healthier. This juice extractor from Breville is powerful enough to make sure none of the fruit and vegetable pulp makes it into the liquid. Its compact size is perfect for even the smallest of kitchens. It has a Safety Locking Arm to keep the juicer from operating without juicer cover in place and safely arm in place. The Breville has dishwasher safe parts and a custom cleaning brush included.

Get this gift on Amazon!
Indoor Smoke-less Grill
Culinary expert Antoni gifted a smokeless, infrared indoor grill and you can now gift it, too. For the cook that loves to grill all year but can't because of the weather, this is an excellent solution! How does this smokeless indoor grill work? Flare-ups and smoke happens on a charcoal or propane grill when fat drips from the meat onto the fire below.
This grill's design prevents that from happening by keeping the infrared light heat sources on the sides. This means when the fat drips, it falls into a drip pan and not on the heating element. This eliminates dangerous flare-ups and making the whole grill experience "smoke-less" compared to a traditional grill. The manufacturer also claims that infrared light allows for a more even sear. The infrared lights heat up the grill quickly and keep it at the same consistent temperature for even cooking. What about clean-up? You can either wipe the grid clean or place it in the dishwasher. Cleaning a grill has never been easier.

 Get this gift on Amazon!
Marcato Atlas Pasta Machine
For the home cook who's ready to make fresh pasta the Marcato Atlas is the gold standard of pasta machines. If you need more proof that it's a good gift: It also made an appearance on Jennifer Lawrence's wedding registry. Marcato's Original World-Famous Atlas 150 pasta machine rolls and cuts pasta dough for traditional lasagna, fettuccine, and much more! It is made in Italy from chrome-plated steel and includes a pasta machine, pasta cutter, hand crank, clamp, Instructions, and a 10-year warranty. Easily attaches with the pasta drive motor and any of the 12 pasta cutting accessories. Called the Ferrari of the pasta machine world by Cook's illustrated. This pasta machine wipes clean with a dry brush or cloth. 

Get this gift on Amazon!
iClick and Grow the Smart Garden 3
For the cook who needs and loves fresh herbs in their culinary creations! This indoor herb garden is self-watering and has a built-in grow light to grow fresh basil or mint even if the kitchen has no windows. Grow your favorite culinary herbs all year long without worrying about weather conditions or bugs. Hassle-free installation and maintenance for easy use. Just drop the plant cartridges right into the container, refill the water reservoir, plug the device in, and you are good to go. You can choose from over 40 fresh herbs and fruits to grow pesticide-free.

Get this gift on Amazon!
Instant Pot 7-in-1 Multi-Use Programmable Pressure Cooker
You have heard about the Instant Pot even if you don't cook. I love using mine, it combines 7 kitchen appliances in 1 to save you space. It steams, saute, pressure cooks, slow cooker, rice cooker, and makes yogurt. You can't go wrong since it has over 36,000 reviews on Amazon! Great for the busy cooks who don't have enough time after work or had one of those days at work. It is even perfect for those who are just starting out and learning how to cook!
Why is the Instant Pot so great? It monitors pressure, temperature, keeps time, adjusts heating intensity and duration to achieve your desired results every time. It helps you prepare dishes up to 70% faster. A stainless steel lid, components, and accessories that are dishwasher safe. The inner pot with 3-ply bottom for even cooking, a steam rack with handles, a serving spoon, soup spoon, and a measuring cup.

Get this gift on Amazon!
Blisstime Cast Iron Cleaner
For the chef that loves to cook with cast iron but struggles to clean their cast-iron skillet. This little square of chainmail will make removing crud and burnt food bits from a cast-iron skillet or Dutch oven making it a relatively quick and easy task. This works much better than a cast iron scrub brush or pan scraper. It will not scratch your pans and help you keep your cast iron seasoned. Handmade with restaurant-quality grade stainless steel handcrafted rings. Lightweight and convenient for home, camping, or travel.

Get this gift on Amazon!
KitchenAid Artisan Mini Series
For the home baker with limited counter space, the mini KitchenAid Artisan Tilt-Head Stand Mixer is the way to go! I love using my full-size KitchenAid but this is the next best thing for smaller kitchens! This mini stand mixer has all the functionality of a standard KitchenAid mixer. It's 25% lighter and 20% smaller than the regular KitchenAid Mixer which means it's great for small kitchens with limited space. You still get the same tilt-head design which allows you clear access to the bowl. You can attach the beater or additional accessories so you can easily add ingredients to a recipe. Lock the head into place during operation keeps the beater-to-bowl contact close and efficient.

Get this gift on Amazon!
My Family Cookbook
Create a family keepsake with this customizable cookbook. Add your uncle's secret recipes and keep track of your mom's top food hacks to ensure beloved, delicious memories endure from generation to generation. There is also a baking keepsake cookbook too! Get these gifts on Amazon!

My Family Cookbook | My Baking Cookbook
Totally Bamboo State Serving & Cutting Board
Get them a cutting board in the shape of their favorite state! A little personalization always makes a gift feel so special. These state-shaped cutting boards are a fabulous way to make someone feel loved. Show off your state pride, including a hanging hole and tie to make this board a wonderful wall art option too. This is an ideal serving platter as well as a great cutting surface. Durable as any hard wood cutting board, but easy on knives, and is hand wash only.

Get this gift on Amazon!
Avalon Bay Air Fryer
A healthy french fry? Bring it on! You don't have to be a foodie to appreciate this air fryer. Thanks to air circulation technology, this oil-free wonder delivers fried foods with up to 80 percent less fat than typical fried foods. All the fun with none of the guilt! Includes a non-stick baking dish, multi-use rack, and a 52-page Avalon Bay cookbook for Air Fryers.
OXO Tabletop Spiralizer
The tabletop spiralizer will surely come in handy on January 1st when pasta and other carbs are likely to go on the naughty list again. It is also a great gift for trying to eat healthier or on the Keto diet. Make quick work of creating spirals from fruits and vegetables for curly fries, salads, garnishes, and more! Comes with 3 stainless steel blades create spaghetti cut (1/8th inch), fettuccine cut (1/4th inch), or ribbon cut noodles from vegetables. A removable blade box keeps blades clean, safe, and organized. Food holder with sharp teeth holds food securely while spiralizing and dishwasher-safe. Stronghold suction cup for non-slip stability on countertops.

Get this gift on Amazon!
Top Chef Classic 15-Piece Knife Block Set
Do you like watching "Top Chef"!? Now you can slice and dice like the pros on that hit Bravo series with this knife set. Includes a 7-inch santoku knife, 5-inch santoku knife, 6-inch filet knife, 8-inch chef knife, 8-inch bread knife, 3.5-inch paring knife, 4-inch shears, and sharpening rod. The 15-piece block comes with all the tools any aspiring home chef needs to keep their kitchen game sharp.

Get this gift on Amazon!
Tear Free Onion Goggles
If you have been searching for a gift for the chef who has everything, look no further. Onion goggles are the answer. Cutting onions are no longer a pain and tearful experience! These fog-free goggles protect their eyes from onion enzymes, smoke, and pepper fumes, this will keeping the home chef tear-free and ready to slice and dice like a pro. 
Adjustable Rolling Pin
For the cook that love's to bake! Here's the secret to a perfectly thin dough. This customizable rolling pin uses slip-on rings to flatten the dough to the exact millimeter. Great for pizza, pie crusts, tarts, cookies, and more! Pin made of solid beech wood, plastic rings etched with measurements, plastic screws hold rings in place and hand-wash for best results.

Get this gift on Amazon!
Marble Rolling Pin
I have this same marble rolling pin and I use it in my baking video on my blog. This rolling pin is perfect if you are making sugar cookies or pie crust because you want to use a cold rolling pin. A marble rolling pin can be placed in the fridge before use to help keep your dough cold when you are rolling it out to get the best results from your baking. 

Get this gift on Amazon!
Uncommon Goods
If you are looking for a unique cooking gift for your favorite cook in your life? Then Uncommon Goods is a great website to check out to find that special gift on Uncommon Goods! This is a great site to find a gift for that hard to buy for person!

www.uncommongoods.com
Make a custom gift, with one of these posts!
I will show you how to make a layered Army shadow box with lights added to the interior frame. This is a quick and easy craft you can do in a few hours in the afternoon or on the weekend! This lighted layered Army shadow box is a unique gift idea too. Here you can…

I will show you how to make a layered Army shadow box for a female Soldier with lights added to the interior frame. This is a quick and easy craft you can do in a few hours in the afternoon or on the weekend! This lighted layered Army shadow box is a unique gift idea…

I will show you how to make a layered Space Force shadow box with lights added to the interior frame. This is a quick and easy craft you can do in a few hours in the afternoon or on the weekend! This lighted layered Space Force shadow box is a unique gift idea too. Here…
I hope this post will make it easier for you to select that perfect gift for that special someone in your life.
I make a commission from purchases made through links in my posts, at no extra cost to you. Read my disclosure for more information.