I make a commission from purchases made through links in my posts, at no extra cost to you. Read my disclosure for more information.
In this post, I will show you how to choose the right camera lenses for your camera. I remember struggling to find additional lenses for my camera. I didn't know how to find the right lens size that would work with my camera or what the codes on my main camera lens were for.
After doing a little bit of Google researching. Ok, I spent a whole afternoon Google search how to find the right camera accessories and lenses for my camera. I was finally able to understand how to read the size range for my camera lens and how to buy the right lens that fits. I am going to share those 2 steps with you, so can buy the right camera lens with confidence!



How to Choose the Right Camera Lenses
What do the numbers on my camera lens mean?
2 Steps in selecting a camera lens accessory


What do the numbers on my camera lens mean?
I wondered that very same this too! These numbers are very important when selecting additional camera accessories for your current camera and lens. When selecting an additional lens and filters for your camera, an adaptor might be required. These numbers will help you find the right fit for your camera. Nothing is more frustrating than buy camera accessories, and then finding out they don't fit your camera.

 


2 Steps in selecting a camera lens accessory
These 2 simple steps will help you in selecting your next camera lens accessories:

Step 1:
You will want to look for your camera's lens size, make, and model. At the bottom of your camera, you will find the make and model. For example, my camera's make is Olympus and the model is E-PL5.




Step 2:
Around your lens frame, you will find your lens size. Currently, my camera has a 14-42mm lens on it. However, if I want to buy more filters and adaptors for my camera, I will need the number right after the millimeter size.
In this example, my camera's lens filter sizes will be 1:3,5 – 5,6 and 40,5.  These numbers represent the sizes of the filters that can be screwed into the inner threads or the outer threads of your lens. If you look at your camera's current lens you will see these screw threads.

  


This is the information you will want to have before buying your lens and filters. You can take that information and do an Amazon search for the camera accessories you are looking for. This is the most cost-effective way to buy camera accessories, then going through the manufacture website. By using those two simple steps, I have saved more money over time and I usually find a bigger selection of accessories through Amazon. I'm just like everyone else, try to save money on my tech purchases.




Here are the camera accessories I bought from Amazon. They work on both of my Olympus cameras which are an E-PL1 and E-PL5. Since the lens filters are not brand-specific, I can use them on other cameras that have the same lens size.
However, I do prefer the Olympus digital camera over other brands. I have received so many compliments from other photographers on the picture quality of my camera. I love showing them how easy it is to use the Olympus camera on action shots. Before I buy a new camera in the future, I will make sure that I can use the same lens, filters, and adaptors.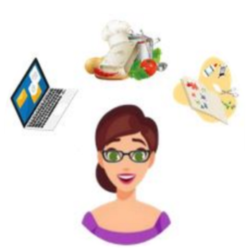 Subscribe to Nerdy Moms United!
Get updates on the latest posts and more straight to your inbox!
Do you want to learn more about professional photo editing and photography?
Check out this great photo editing training courses!
Learn how to Use a DLSR camera with this Photography Masterclass!
Learn how to do trick photography and special effects with your camera.
How to do trick photography with your Iphone.
For more information photography check out my other posts linked below:

Post: Best Digital Camera for Beginners
Post: The Best Photo Printer to Print Pictures from Home
Post: 20 Top Reason to Use Adobe Photoshop
Post: 20 Top Reason to Use Adobe Lightroom
Post: Top 2 Photo Editing Software
This post may contain affiliate links. Please read my disclosure for more information.
I make a commission from purchases made through links in my posts, at no extra cost to you. Read my disclosure for more information.
Looking for more blog tech posts?
What do you need to know before you can get approved for your Pinterest Verified Merchant Program Account? I wanted to know the answer to this question. So, I could put together a quick and easy illustrated tutorial on the requirements and benefits to the Verified Merchant Program that Pinterest is offering. I will cover everything you need to about how to signing up and approved for the Pinterest Verified Merchant Program….