I make a commission from purchases made through links in my posts, at no extra cost to you. Read my disclosure for more information.
By far Adobe makes the best photo editing software Photoshop or Lightroom. You can use one or both since they work seamlessly together. Adobe Photoshop is hands down my favorite picture editing software. I would consider it is a Swiss Army Knife for picture editing and digital artwork design.
I have used it for digital artwork projects, photo repair, touch-ups, and manipulation. I can utilize the tool to edit both animation and video layers, I have done that on some projects. Editing images with different file formats are not a problem either.
It is also the best since it integrates with other programs that allow for easy transfer of files. Whatever you dream up, you can do it in Photoshop. It is also available in almost all languages. It surely helps you to apply various effects easily and get consistent results. It has many features that are hardly available in other photo editing software. I can't say enough about it, I can do so much with it! Get Adobe Photoshop here!




Another great alternative to Adobe Photoshop is another Adobe product called Adobe Lightroom. Lightroom is a cloud-based picture editing software. You can make changes based on the pictures existing qualities and composition. All the details your images possess when you captured them using your camera are the only elements you can work on.
This software doesn't take too much hard drive space when you work on your pictures. Lightroom is also built with organization features that let you organize all your photographs. It also integrates well with Photoshop (if you decide to add it later) and allows you to work on multiple images in a very efficient manner.
One of the biggest benefits of the software is the library or catalog. It allows for metadata editing and tracking through multiple work sessions. This allows you to manage a large number of images or image sets and integrate them. There are several other strong features integrated into the software like the Map for geotagged images, slideshow creator, and the book and print modules. Get Adobe Lightroom here!




This is why I would recommend buy or better yet getting a subscription for Adobe Photoshop. I find that the subscription is more affordable for me and would highly recommend it. I can even go for the Adobe Creative Cloud Photography Subscription and leverage the whole creative suite for $19.99 a month. That way I don't have to pick between Photoshop and Lightroom, I can get the best of both worlds at Adobe.com.

Do you want to learn more about professional photo editing?
Check out this great photo editing training courses!
Learn how to Use a DLSR camera with this Photography Masterclass!
Learn how to do trick photography and special effects with your camera.
How to do trick photography with your Iphone.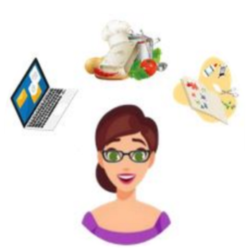 Subscribe to Nerdy Moms United!
Get updates on the latest posts and more straight to your inbox!
For more information on Photoshop and Lightroom check out my other posts linked below:

Post: 20 Top Reason to Use Adobe Photoshop
Post: 20 Top Reason to Use Adobe Lightroom
Post: How to Choose the Right Camera Lenses
Post: Best Digital Camera for Beginners
Post: The Best Photo Printer to Print Pictures from Home
I make a commission from purchases made through links in my posts, at no extra cost to you. Read my disclosure for more information.
Looking for more blog tech posts?
What do you need to know before you can get approved for your Pinterest Verified Merchant Program Account? I wanted to know the answer to this question. So, I could put together a quick and easy illustrated tutorial on the requirements and benefits to the Verified Merchant Program that Pinterest is offering. I will cover everything you need to about how to signing up and approved for the Pinterest Verified Merchant Program….