These beautiful smelling salt dough Christmas ornaments are easy for kids to make as gifts. With this easy salt dough recipe, and several fun crafts ideas that kids can make. They make wonderful DIY keepsake ornaments that family members, teachers, and grandparents will cherish for years.  
This salt dough recipe makes about 15 to 20 ornaments depending on the size of your cookie cutters. The amazing smell comes from the ground spices and essential oils.
Easy Salt Dough Christmas Ornaments Recipe
Salt Dough Tips and Hacks:
The dough should feel smooth and consistent. If the dough feels too sticky, add more flour. If it's too dry, you can gradually add more water.

You can add a Kool Aid packet to the dry mix or food coloring to the water to dye the dough so you don't have to paint the ornaments later.

You can store the dough in the refrigerator for 1-2 days. Wrap the dough in plastic wrap and place in a zip lock or airtight container.

Use wax paper or baking paper on your cookie sheets. It will make it easier to remove the salt dough ornaments from the cookie sheet after baking.

Roll the dough between two pieces of wax paper for easier clean up.

For easier clean up when decorating with paint or glitter, cover a cookie sheet with foil. It will make the perfect work area to contain the glitter and paint spills.

For glitter ornaments, add the glitter while the paint is wet or use Mod Podge before and after applying the glitter. This will help keep the glitter from falling off.

You can air dry your salt dough ornaments.

Note: For the air-dry method, make sure your ornaments are very thin. It can take up to 4 to 7 days for the ornaments to dry completely.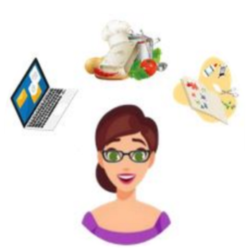 Subscribe to Nerdy Moms United!
Get updates on the latest posts and more straight to your inbox!
Suggested Tools for Salt Dough Christmas Ornaments:
Instructions:
Preheat your oven to 250˚F. (skip if you are doing the air dry method)

Mix the spices, salt, and flour in a large bowl. (optional: Kool Aid mix coloring, see example 6)

Slow add the water  and essential oils to the dry mix. (optional: food coloring in water, see example 6)

Mix the dough well with your hands until it feels like play dough.

Roll the dough out into a thin layer about 1/4 inch thick, using a rolling pin.

Uses cookie cutters to cut shapes in the salt dough.
Optional idea: You can have the kids place their hand in the dough or add a light thumbprint in the cookie cutters shape. Nothing is more adorable than a hand print or fingerprint Christmas ornament! You can also use alphabet stamps to put your child's initials or name in the soft salt dough.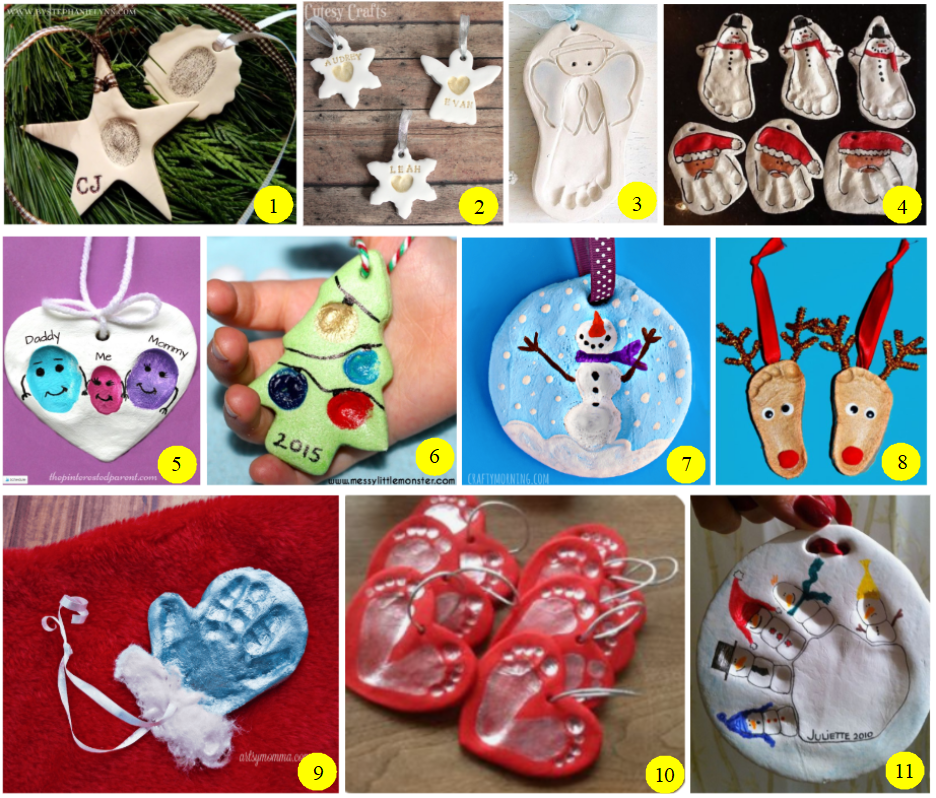 Special thanks to these blogs for their salt dough Christmas ornament design ideas:
1) www.infarrantlycreative.net
2) cutesycrafts.com
3) www.etsy.com/TheBabyHandprintCo
4) www.doityourself.com
5) thepinterestedparent.com
6) www.messylittlemonster.com
7) www.craftymorning.com
8) funhandprintartblog.com
9) funhandprintartblog.com
10) community.babycenter.com
11) www.apartmenttherapy.com
Finish decorating the ornament. Save the painting and glitter for after baking and cooling is done.

Use a drink straws to make a small hole at the top of each ornament before baking.

Bake your ornaments in the oven at 250°F for 1.5 to 2 hours until the dough is completely dried.

Optional idea: For the air-dry method, make sure your ornaments are very thin. It can take up to 4 to 7 days for the ornaments to dry completely.


Finish decorating your cooled ornaments with paint, glitter, pom-poms, ribbon, fabric or anything else your kids might enjoy

When the paint has dried, you can attach a ribbon to the hole.

Enjoy hanging your ornaments on your Christmas tree or give them away as gifts to friends and family.
Salt Dough Christmas Ornament Ideas For Your Pets
Don't feel bad if your kids are the four legged type. You can also use this salt dough Christmas ornaments craft for them too! Here are some example I used for my own pets. I used a cookie cutter for the shape and a small alphabet stamp set to put their names with their paw print.
I used this salt dough craft project for my pet shadow boxes. So you are not limited to just making Christmas ornaments. This is a great idea to have away to remember a pet before they pass.
Before we had to put our very sick dog down. I did a salt dough mold of his paw print. The cats on the other hand were not so excited about me doing their paw prints that same day.
I colored in the the paw prints with a crayon. I did try melting the crayon wax in the paw print but the wax will leave a stain on the dry salt dough, as it soaks into it. You can see an example of that on the dog's paw print where his toe nail was.
Using a crayon to color you dry salt dough Christmas ornament works fine. However, melting the crayon into your salt dough Christmas ornament design not such a good a idea. I thought I would share this learn experience with you.
How to protect and preserve your salt dough Christmas ornament questions

How do you seal your salt dough Christmas ornaments?
Mod Podge is the best way to seal your salt dough Christmas ornaments. Apply 1 to 2 coats of Mod Podge and wait 24 hours for it to set completely. Mod Podge comes in glossy, sparkle, glitter, or matte finishes to help you add the final touch to your ornaments. The two coat technique with the Mod Podge is really useful when using glitter on your ornaments.
How do you make salt dough Christmas ornaments shiny?
There are two ways to make your Christmas ornaments shiny with and without glitter.
Shiny ornaments without glitter:
You can use polyurethane spray which can also be used to seal your ornaments. You can also use the Mod Podge Clear Acrylic Sealer.
Shiny ornaments with glitter:
For your glitter ornaments, I would suggest using 1-2 coats of Mod Podge Gloss Finish. (fix this link)
Can Kosher salt be used to make salt dough Christmas ornaments?
Yes, Kosher salt can be used to make this salt dough Christmas ornament recipe. However, I have noticed that the flour and Kosher salt will not make a smooth dough. This will leave you with a rougher dough texture. I would highly suggest sticking with table salt for better results with your dough.
How long does a salt dough Christmas ornament last?
Your homemade salt dough Christmas ornaments can last for decades. Salt is a preserving agent, this will make sure that your ornaments will not get moldy.
How to store salt dough Christmas ornaments?
You should store your beautiful keepsake Christmas ornaments in a plastic bin with bubble wrap, shredded paper, or other soft materials. Wrap them carefully the same way you would a precious delicate glass ornament. Place the container in a storage location where they will be safe from getting smashed or destroyed. I like to put mine ornaments in a special designed box that has small compartments to keep the ornaments from rubbing against each other. The bin should be kept in a cool, dry place, and your ornaments can last for many years to come.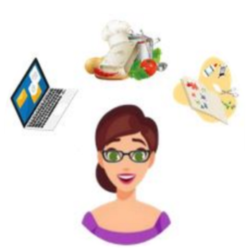 Subscribe to Nerdy Moms United!
Get updates on the latest posts and more straight to your inbox!
If you like this crafty ideas, check some of my other crafts!
How to use a Cricut EasyPress 2 to make a signal layer vinyl t-shirt
How to use a Cricut EasyPress 2 to make a layered vinyl t-shirt
How To Design A Color Changing Mug Using Cricut Infusible Inks
10 Cricut Infusible Ink Hacks
Cricut Pen Adaptor Hack
I hope you enjoyed making these easy salt dough Christmas ornaments with your kids. If you like this post please share it with others. Sharing is caring!

I make a commission from purchases made through links in my posts, at no extra cost to you. Read my disclosure for more information.
Looking for more craft project ideas?
I will show you how to make a shadow box memorial layout for your dog. This a beautiful way to remember your cherished dog with this shadow box memorial idea for your dog…

---